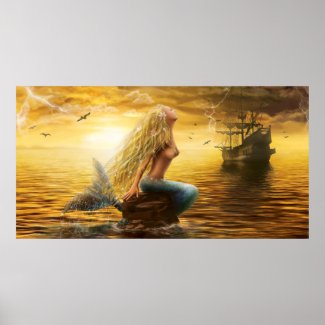 Framed Print Mermaid
by
Alenalazareva
Start
selling my artwork
online at Zazzle.
Fantasy art by Alena Lazareva
* My artwork has been awarded for EXCELLENCE IN ARTISTIC DESIGN and is being featured on the front page of the Awesome Zazzlers Gallery.
* My product Canvas "Sad Fairy" has been featured on Zazzle Tops ZTTBA Award February 19, 2010 .
* My skateboards -Top 10 Skateboards October.

ProSeller!
Zazzle offers five different print sizes from Portfolio to Colossal for all of your decorating and presentation purposes. Made with premium UV-resistant archival ink, Zazzle prints are available on seven different media, from basic poster paper to canvas.
* Zazzle's quality prints are sharp and highly saturated.
* Printed with UV-resistant archival ink.
* Choose from a variety of print media from basic poster to canvas.
* Huge selection of frames and mats, custom-fit by hand to print!